Inflation sucks.
And even if you're flying to a country without 8.5% inflation, you'll still have to pay inflated US airline prices to get there.
Fortunately, you can significantly offset the higher cost of travel by implementing some smart money-saving strategies that kick in as soon as you start planning and span the length of your adventure.
How can using separate browser windows save you money on flights? How can you save 30% on good food at almost any restaurant around the world? And what is an easy way to save a lot of money and stress on a trip to and from the airport?
Let's dive into seven ways to travel cheap!
1. Set Price Alerts Searly
Imagine if Delta were selling used cars.
"What is the price of this Kia Soul?"
"$9,174"
"What's the price on Tuesday?"
"$11,308"
"Gav. Wednesday?"
"6039 dollars"
And yet, we are fully aware that airfare prices fluctuate like the price of bitcoin.
That's why it's good to get in the habit of setting flight price alerts the moment you're thinking about going somewhere.
Getting a few months' head start can save you hundreds on a single flight, or thousands a year if you're a frequent traveler.
Now which services to use?
Kayak.com is great if you are looking for an efficient and free option. But if you can afford to invest $49 for an annual subscription, Scott's Cheap Flights can help you save between 40% and 90% on most flights.
Read more: How to find a cheaper flight ticket
2. Check another browser before booking your flight
Once you find a good deal on a flight, I'll ask you to try something crazy: find your flight in another browser (Firefox, Edge, Chrome) and see if the prices match.
I know it sounds crazy, but a 2016 Consumer Reports study found that out of 372 flight searches, "we found 42 pairs of different prices across different browsers for the same sites that were retrieved at the same time." ".
Their advice?
"…search and… if possible, search in at least two different browsers."
3. Uber to/from the hotel at the airport, not to the airport
Here's a trick I learned flying in and out of the world's busiest airport.
As you probably know damn well, ride-sharing apps like Lyft and Uber typically charge around 40% more to pick up or drop off at an airport. This helps cover tolls, parking fees, and driver time lost in airport traffic.
This is also just heartless speculation.
In addition, ridesharing is no longer as convenient as it used to be. Even after you figure out where the "official" pickup area is, you'll have to spend the next 25 minutes clumsily approaching every white 2017 Nissan Sentra that shows up, looking for Sal.
All that stress – and 40% of the fee – will immediately go away if you can meet Sal at the nearest airport hotel, and not at the airport itself.
Most major airports have a free or near-free train that takes you one stop to your hotel or convention center. Get off there and Uber the rest of the way.
This may seem a little laborious, but in the end I usually save time to do it this way because my driver doesn't have to wait in airport traffic.
Also, if you're flying in the winter, this strategy gives you the option to wait indoors.
4. Book a room with a group travel service
Now that we've covered flights, let's talk about how to save money when you get there.
One of the biggest challenges when traveling on a budget is stress. Not only are you stressed about figuring out what to do, but you're also stressed about paying for it (and later wondering if you got a good deal).
That's why I love booking tickets with group travel services like G Adventures, Intrepid and Contiki. They take care of all the logistics for you – accommodation, daily routine, your guide, etc. – so all you have to do is show up on time and have fun.
In addition, you will be placed in a group of like-minded young travelers so that you can enjoy (and be safe) from group travel.
But most importantly for us, booking with a company like G Adventures saves you money. It is generally cheaper than booking all individual parts on your own because you are paying for a group rate.
At the same time, I still preferred to do my business in several countries. And that's when I learned one of the best travel money saving tips:
5. Stay in dorms – no, seriously
Hostels have a mixed reputation. I mean the name literally sounds like "hostile" and they are often known for being noisy parties where you won't be able to sleep.
But my experience with hostels has been the opposite.
Sure, they're not as quiet as your own hotel room, but they're 80% cheaper, filled with cool people, and generally have strict lights out that everyone respects.
Plus, the top-rated hostels on HostelWorld got top ratings for one reason: comfortable beds, clean sheets, warm showers, lots of amazing amenities, and they often have their own restaurants with cheap (but delicious) food.
Modern hostels have more in common with 5-star Airbnbs than dorms (and I know I've lived in both).
And speaking of delicious food…
6. Eat lunch like "pleasant" food and street food like dinner
No matter how short your meager budget is, I'm sure you'll want to treat yourself to a decent sit-down meal at some point.
As it should be – it's nice to relax, indulge yourself and try a quality version of the local delicacy, wherever you happen to be.
That being said, to save money, think of lunch as your fancy sit-down meal, and drink beer and street food for dinner.
The reason is that restaurants often charge 30-40% less for the same food served at lunchtime. This is due to the so-called convex demand curve in the restaurant industry. In English, this means that the demand for sit-down meals is higher than for sit-down meals, so restaurants can afford to charge more for the former.
In addition, sit-down meals have their own special benefits. The lines are shorter, the service is often better, and you can sit on the warm, sunny patio sipping a chilled Pelligrino.
A few hours later, a faster, cheaper dinner won't delay your nightly shenanigans or hit your budget.
Plus, a quick street kebab will leave plenty of room in your stomach for another, um, Pelligrino.
Read more: 9 ways to save money on food and drink while traveling
7. Bring the right Travel Rewards card with you and redeem those points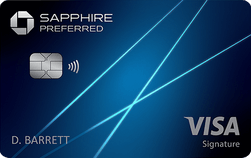 Apply Now
On a secure site

But Chris, I heard you say.
My Chase Freedom Unlimited® is already earning me 1.5% cashback. Should I take Chase Sapphire Preferred® with me to get double points?
Yes.
Because the main attraction of the Travel Reward Card isn't really a marginal increase in points in certain travel categories.
Rather, it is twofold:
Free travel insurance.
Points multiplier when redeemed for future trips.
For starters, most Travel Rewards cards include free travel, luggage, and rental car insurance. As long as you book with a travel card, your trip will be automatically protected:
Travel cancellation/cancellation insurance.
Travel delay compensation.
Travel accident insurance.
Lost baggage reimbursement.
Baggage delay insurance.
Travel and emergency assistance.
Some of these policies can net you $10,000 in refunds, so they are definitely worth the effort to get a card.
Secondly, while many traveler reward cards only have regular travel rewards (2X for hotels, 3X for restaurants, etc.), the difference lies in how much those points cost.
To illustrate this, Chase Points are worth 1.25 times more when used to travel with Chase Ultimate Rewards®. This means you can buy a $750 flight for just $600 if you save your points.
Finally, the best travel reward cards can have an annual fee of $95 or more, but they also have nice signup bonuses of up to $750 for spending $4,000 in the first three months.
This means that if you have a big $1,000 trip ahead of you and about $1,000 of monthly expenses that you can put on the card, that's $4,000 for three months. Once this happens, you will receive up to 60,000 points worth $750.
Aha! You just paid for your trip.
bottom line
As inflation rises, frugal young travelers have to get smarter. We hope that at least one of these travel hacks will help you save money, have fun and see more of the world at a fraction of the cost.
Featured Image: NDAB Creativity/Shutterstock.com
Read more: